Research Archives
Please take a moment to search our holdings database here:
This may help you find materials of interest before visiting or writing to us.  FYI: We are constantly updating the database and many archival items are not yet entered. Please contact archive@lchsociety.org with any questions.
The Hauck Research Archives
is a non-circulating repository for Lebanon County history and genealogy. Volunteers are always on duty to assist with genealogy research. There is a usage fee of $6.00 for adults for each session at the Archives. There is no charge for members of the Society or for students under 18. College students with ID $3.00.  Photocopy service is available at a nominal charge.
All researchers under 18 years of age must be accompanied by a parent or guardian in the library.
Unfortunately, we cannot admit new researchers less than 60 minutes before closing.  We are sorry for any inconvenience.
No digital or film camera may be used in the library.
Staff will answer brief, informational requests (such as: Do you have this book? or When was Lebanon County founded?) requiring ten minutes or less free of charge.
Research requests must be submitted by mail, along with payment.  Email requests submitted without payment will not be answered. We cannot accept research requests by phone. Please fill out the request form and mail it with payment based on estimated hours needed.  Most requests require two hours to complete, but the archivist can advise you by email with an estimated timeframe (archive@lchsociety.org).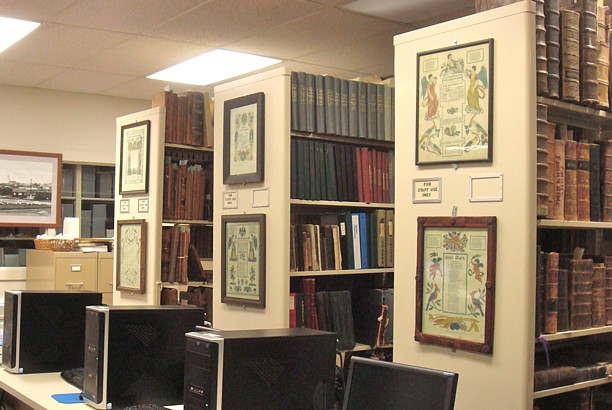 Among the holdings of the Archives are:
church histories, records, and cemetery surveys
federal census records
local newspapers on microfilm, including Pennsylvania German publications
historical maps and city business directories
county marriage records on microfilm from 1886 through 1949
several hundred compiled family histories
high school yearbooks
historical publications from the surrounding counties
a library of Pennsylvania history books
a variety of manuscripts, documents, photographs, and postcards
Coleman Collection
The Hauck Memorial Archives is proud to announce the reacquisition of Manuscript Group 182 from the Pennsylvania Historical and Museum Commission (PHMC).  Since 1967, the State Archives has cared for MG-182 as a long-term loan from the LCHS.  In fall 2016, the LCHS Board of Trustees decided that this valuable collection (207 cubic feet, most of which pertains to the Coleman family and related enterprises) of business records and personal correspondence should be brought home, a project completed in April 2017.  The LCHS is currently reviewing the collection and preparing a new finding aid, which will be uploaded to a revised database in the near future.  We ask that anyone seeking access to various parts of this collection contact the archivist (archive@lchsociety.org) no later than one full week in advance of your arrival.  Given the size of the collection, we cannot pull items on demand.  Please consult the legacy finding aid here:  Coleman Collection – Archives
Hours of Operation
The building may be closed for inclement winter weather.
| | |
| --- | --- |
| Monday | CLOSED |
| Tuesday | 10:00 AM – 5:00 PM |
| Wednesday | 10:00 AM – 5:00 PM |
| Thursday | 10:00 AM – 5:00 PM |
| Friday | 10:00 AM – 5:00 PM |
| Saturday | 10:00 AM – 2:00 PM |
| Sunday | CLOSED |
| All Holidays | CLOSED |
Hours of operation are subject to change.  It is suggested that you email or call to confirm, especially if you are traveling a distance.
Current Fees
Research requests, non-members: $25/hour
Research requests, members: $20/hour
Floor research, members: Free
Floor research, non-members: $6/day
Floor research, college students with ID: $3/day
Floor research, students 18 and under with ID: Free
Copies, 10-page limit per item (book, article, or folder): $.50 each
Microfilm copies: $.50 each
Scans, low res 100 dpi, 5-page limit per item: $5 each
Scans, high res 300 dpi, 5-page limit per item: $20 each
House and Land Research
If you are interested in tracking the history of a certain property, we strongly urge you to start by tracing back your deed in the Lebanon County Recorder of Deeds office: http://www.lebcounty.org/Recorder_of_Deeds/Pages/home.aspx
A comprehensive history of homes in Lebanon County does not exist, nor do we have a comprehensive collection of photos on all homes.  However, photos of houses and buildings that belonged to prominent individuals or that housed prominent businesses can often be found.  We also have a comprehensive collection of Lebanon City cross-reference directories that will often include the names of owners or tenants (not all outlying areas are covered in these books).  We provide access to Newspapers.com, which sometimes can provide quick answers on ownership and building history.
LCHS volunteers can conduct in-depth land/property research for a minimum of ten (10) research hours per request (paid in advance) and additional hours will be billed as necessary.
Research by Mail
If you are unable to visit us in Lebanon, we offer research services for a prepaid fee. Please see the Research by Mail page for more details.
Donations of Historical Artifacts
The Lebanon County Historical Society cannot accept donations of historical items and documents except by appointment. Please call or email the Society office to make inquiry.
Books for Sale
The Hauck Research Archives is not a lending library. The Historical Society does offer some books for sale in person or by mail. See the Publications page to see a list of LCHS publications. See the Gift Shop page for a partial list of other books of local interest. The Society also offers a unique collection of used, de-accessioned historic books and yearbooks for purchase.
---
The Hauck Research Archives is named in honor of Mrs. Sarah Embich Hauck (1842 – 1934), who so graciously provided posthumously our Historical Society with its first wholly-owned facility at Sixth and Walnut Streets.